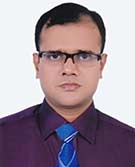 MD.MOSTAFIZUR RAHMAN
MD.MOSTAFIZUR RAHMAN
( Ph.D. in Business Administration, International Islamic University Malaysia)
HEAD OF THE DEPARTMENT
TEXTILE ENGINEERING DEPARTMENT
Welcome to the website of Department of Textile Engineering (DTE) of World University of Bangladesh (WUB). Choosing the right academic program in tertiary level is a crucial step for your career and your life. We offer you a very high quality engineering degree and a unique opportunity to match engineering with the life you have always dreamed of achieving. Our B. Sc in Textile Engineering program will prepare you for success with core textile engineering knowledge, expert academic advising, world class faculty and innovative learning. One of the major strengths of our department is that world-renowned educationist in the top management and decision making level in WUB as well as highly qualified full-time faculty members in the department.
From the very inception, WUB is very selective and has recruited the best quality faculty members having extra-ordinary academic background with vast industrial experience. They mentors provide help to our students so that they can grow as professional engineers in textile and apparel arena by acquiring appropriate theoretical knowledge and practical experiences attending technical seminars and conferences and practicing leadership.
In today's apparel trade, the major challenge is to provide quality products having different value added services with zero (0) environmental impact, but the apparel price is getting low day by day in world's market. From the beginning, WUB's textile engineering department has worked to achieve safe and sustainable industry by maintaining all parameters.
Our Bachelor of Science in Textile Engineering program is accredited by the University Grant Commission (UGC). The program strictly follows the guidelines given by the Accreditation Board for Engineering and Technology (ABET) of USA as well as by the Board of Accreditation of Engineering and Technical Education (BAETE) of Bangladesh. Our curriculum committee is constantly working with the external industry and academic experts on keeping the curriculum up-to-date. The department has a good number of laboratories such as Yarn Engineering, Fabric Engineering, Wet Process Engineering, Apparel Engineering, CAD, Physics, Chemistry and computing facilities. WUB has generously allocated resources to establish international standard Textile Engineering laboratory facilities with most up-to-date, sophisticated and best quality instruments.
As you know, the Bangladesh Government have set an ambitious target to earn fifty (50) billion USD through textile and apparel sector by 2021 and the global market share of Bangladeshi products is always in upward direction. A huge number of qualified textile graduates will be required to meet the future needs within the next 5 years. So, it can be assured that a textile engineer graduate from WUB will have a bright future in Bangladesh and abroad.